subscribe
http://feedproxy.google.com/~r/ieeespectrum/automaton/~3/Xo5ZMmUWWZo/licehunting-underwater-drone-protects-salmon-with-lasers
− at 16:00, 22. Mar. 2017


Yes, fish get lice. Laser-wielding robot will help salmon farmers shoot their way out of the problem
[original entry]
http://feedproxy.google.com/~r/ieeespectrum/automaton/~3/sOeHIUjQI7U/diy-lego-robot-brings-lab-automation-to-students
− at 14:17, 22. Mar. 2017


Stanford researchers design Lego robot kit so students can automate their chemistry experiments
[original entry]
http://feeds.feedblitz.com/~/283274156/0/robotshopblog~Neato-Botvac-Connected-Robot-Vacuums-Now-Support-Google-Home
− at 21:41, 20. Mar. 2017
Google Assistant and Google Home are now available for the Neato Botvac Connected Series. You can use your voice to control your Neato Botvac Connected Series robot vacuums with Google Assistant using your Google Home.
You can therefore now send commands to your robot to start cleaning, schedule cleanings, locate your Botvac, check the battery, and more. Simply say the Ok Google command, and follow with your command such as "tell Neato robot to start cleaning". Just like magic, Neato will start cleaning your home without touching a button.
With the Botvac Connected Series, customers can choose how to interact with their robot via the Neato App, Amazon Alexa Skill, Neato Chatbot for Facebook, and now, the Google Assistant. This further extends Neato's vision of SmartLife™ —using technology that integrates seamlessly with your lifestyle to make life simpler and smarter.
"The explosion of artificial intelligence has enabled more sophisticated voice control and we are happy to bring this revolutionary technology to customers. At the heart of Neato's brand is – and always has been – technology leadership through innovation — the Google Assistant integration further cements our commitment to innovation in the smart home," said Giacomo Marini, CEO of Neato.
What countries and languages are supported?
For now, Google Assistant and Google Home are available for the Neato Botvac Connected Series in the United States in English. As Google Assistant and Google Home are introduced in more countries and languages, Neato will expand availability for the Neato Botvac Series.
What Neato Robot vacuums does Google Assistant and Google Home work with?
Neato Botvac Connected, Neato Botvac D5 Connected and Botvac D3 Connected work with Google Assistant and Google Home.
How do I setup my Neato Botvac Connected Series to work with Google Home and Google Assistant?
Follow the directions in the Google Home app to link your Neato Botvac Connected device.  Look for the Neato Robot LINK card.
You will need the Email and Password for your Neato account to authorize Google Home and Google Assistant so they can control your Neato Robot.
The Google Assistant invocation name is Neato Robot.  When you invoke the Neato Robot Google action the first time, for example say "OK Google, talk to Neato Robot", you will be prompted as follows:
Step 1: Link your Neato account
Step 2: Login with your Neato Email and Password
Step 3: Authorize the Neato Robot Google Action to access your Neato Account
After your Neato account is successfully linked, you can use Google Home to talk to Neato, just say "Ok Google, tell Neato Robot to start cleaning".
For more information about the Neato Botvac Connected, D3 and D5 please visit our Website.
[original entry]
http://feeds.feedblitz.com/~/283269400/0/robotshopblog~iRobot-Roomba-Series-Now-Compatible-with-Amazon-Alexa
− at 21:23, 20. Mar. 2017
iRobot has announced updates to the iRobot HOME App that expand the value of connected Roomba vacuuming robots within the smart home.
New Clean Map reports will provide visual post-cleaning maps that display information about the robot's cleaning performance, such as the dirtiest floor areas and total space cleaned. It will also add the integration of Amazon Alexa voice activated control, that will make communicating with a Roomba vacuuming robot easier.
Combining adaptive navigation with visual localization, iRobot Roomba 900 Series vacuuming robots build a map of a home as they clean. Clean Map reports make these maps visible to customers in the iRobot HOME App after a cleaning job is complete, showing total area and duration a Roomba® 900 Series vacuum cleaned — for up to 30 cleaning jobs. Leveraging Dirt Detect™ – an iRobot patented feature only found on Roomba vacuuming robots – Clean Map reports also provide users with information about where the robot encounters higher concentrations of dirt or debris, providing a more focused cleaning in those areas. With the addition of Clean Map reports, users can now have greater confidence in knowing the vacuuming is complete.
In a press release Colin Angle, iRobot CEO said, "These are exciting next steps towards our vision of an ecosystem of home robots that work collaboratively and further enable the smart home."
With Amazon Alexa™, customers can start, stop and pause Roomba cleaning jobs with simple voice activated commands (e.g. "Alexa, ask Roomba to begin cleaning."). The Alexa™ skill for Roomba vacuuming robots will be available to U.S. customers in Q2 2017 and is compatible with any connected Roomba vacuum, such as the Roomba 900 Series.
"iRobot is aggressively pursuing opportunities within the connected home to improve our customers' experience with our cleaning robots," said Colin Angle, chairman and CEO of iRobot. "The latest updates for the iRobot Home App make cleaning with an iRobot Roomba vacuuming robot even more user friendly, with voice-activated commands, enhanced mapping features and useful post-cleaning reports. These are exciting next steps towards our vision of an ecosystem of home robots that work collaboratively and further enable the smart home."
If you do not have a Roomba 900 series yet, you can purchase one directly on our website.
[original entry]
http://feedproxy.google.com/~r/robotspodcast/~3/K6vyfg1HsjU/
− at 08:00, 18. Mar. 2017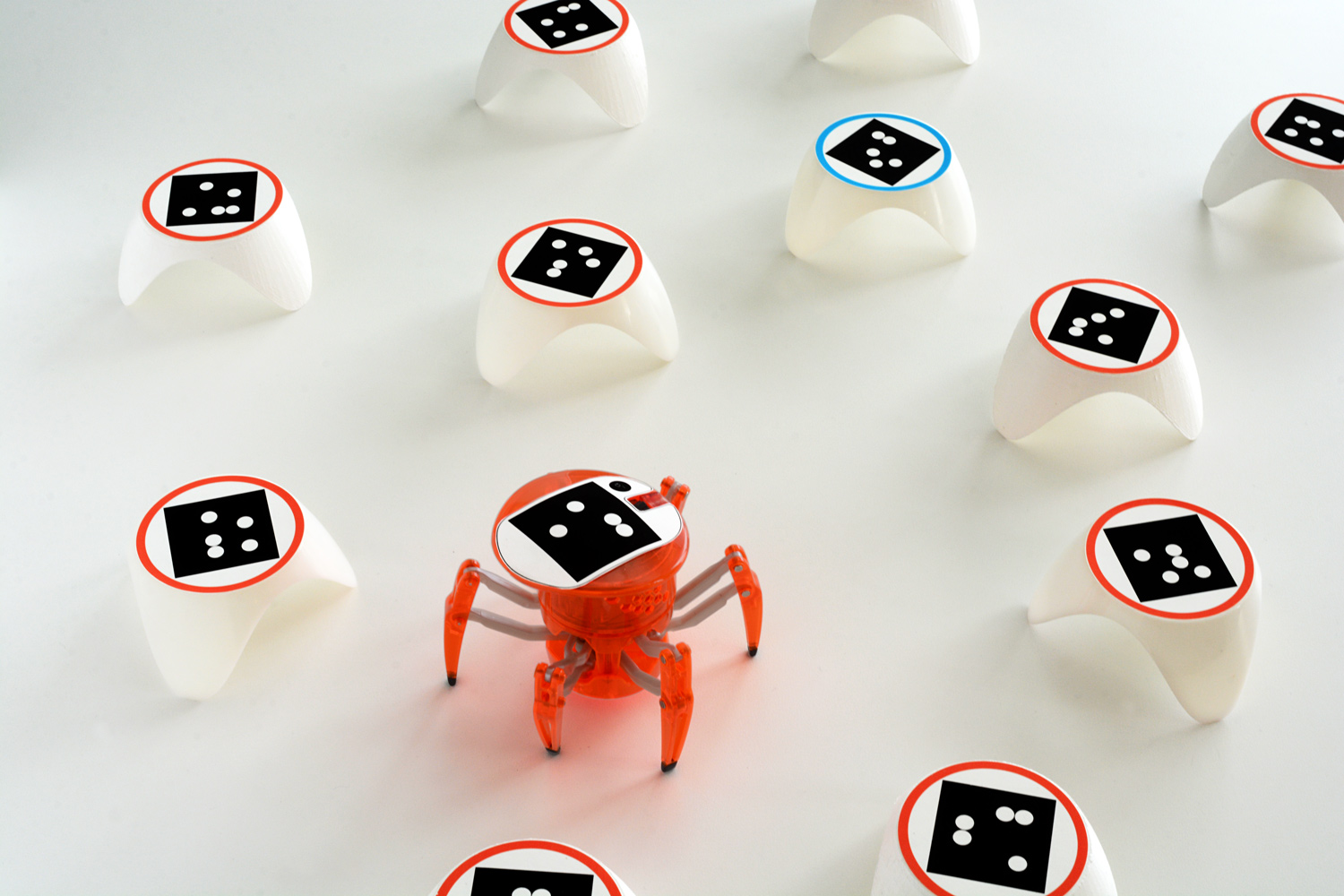 In this episode, Audrow Nash interviews Bradley Knox, founder of bots_alive. Knox speaks about an add-on to a Hexbug, a six-legged robotic toy, that makes the bot behave more like a character. They discuss the novel way Knox uses machine learning to create a sense character. They also discuss the limitation of technology to emulate living creatures, and how the bots_alive robot was built within these limitations.
[original entry]
http://feedproxy.google.com/~r/ieeespectrum/automaton/~3/9saG5yE_eoU/video-friday-robots-rapping-roboboat-wall-avoiding-drone
− at 20:59, 17. Mar. 2017


Your weekly selection of awesome robot videos
[original entry]
http://feedproxy.google.com/~r/ieeespectrum/automaton/~3/uQf0ybHS914/point-and-click-method-robot-grasping-control
− at 21:40, 16. Mar. 2017


Teleoperating complex robots is really hard, and Georgia Tech is working to fix that
[original entry]
http://feeds.feedblitz.com/~/281831124/0/robotshopblog~LitterRobot-III-Open-Air-Basic-Troubleshooting-Guide
− at 19:27, 16. Mar. 2017
Since the release of the Litter-Robot III Open Air, we have received many demands for a troubleshooting guide for this robot. We have therefore decided to help our customers out by creating this basic Litter-Robot III Open Air Basic Troubleshooting Guide.
All Litter-Robot III Open Air's purchased with us comes with an 18 month manufacturer warranty (2 years for Europe). However, before having customers send the product for repairs, we suggest verifying the following:
1. Turn the power Off and unplug the Power Supply from the Base of the unit.
2. Remove the Bonnet from the unit and set it aside, then remove the Globe and set it aside making sure that it does not roll.
3. Ensure the Base is properly situated on a hard level surface, that it is not pushed against a wall, and has nothing resting on it. Empty the Waste Drawer regardless of how much waste is collected.
4. Put the Globe back on the base unit and ensure that it is on the track. If you feel that the Globe is heavy to one side or another, check in the Litter Pocket to make sure that there is no wet or clumped litter stuck that is throwing off the weight of the unit during cycling. Ensure the Globe is filled to the Fill Line and not above the Fill Line.
5. Replace the Bonnet ensuring all 4 tabs are in place and lock the black Key on the back of the Globe into the slot.
6. Ensure no part of the unit is pushed against a wall, or has anything resting against it.
7. Plug the unit back in and Power the unit On.
8. The unit should start to cycle, upon return, the unit will perform a "reset" and use that weight as its baseline moving forward.
9. Press the 'Cycle' button again to test that it can complete a cycle and return to the home position with a Solid Blue LED. Once completed, move on to step 10.
10. Press on the Globe just above the entrance in a forward and down motion to activate the Cat Sensor (Red LED On). Let the unit continue the 7 minute timer, cycle, and return Home to a Solid Blue LED.
[original entry]
http://feedproxy.google.com/~r/ieeespectrum/automaton/~3/UdENbDpqR94/robot-knows-the-right-question-to-ask-when-its-confused
− at 19:58, 15. Mar. 2017


Understanding when they don't understand will help make robots more useful
[original entry]
http://feeds.feedblitz.com/~/280406290/0/robotshopblog~Job-Offer-RobotShop-is-Looking-For-a-Community-Manager
− at 17:35, 13. Mar. 2017
Are you specialized in community management, ready for a new challenge and would like to be part of an industry with exponential expansion?
Are you looking for an employer who offers rewarding challenges, encourages creativity as well opportunities for advancement?
If so, RobotShop would be greatly interested in meeting you and you may be the person we are looking for to join our growing team!
Position description:
The community manager will be responsible for the development and growth of RobotShop's community. The candidate will represent both RobotShop and the community itself. He will be highly motivated in helping RobotShop thrive as the leader in the robotic field.
Tasks and responsibilities:
More specifically, the community manager will be in charge of several tasks such as:
Manage and moderate the community;
Manage the content creation process and communications;
Manage various projects related to the growth of the community;
Mobilize the community member and ensure they are engaged and active;
Gather ideas and comments from the community;
Establish development strategies and action plans;
Manage implementation and execution of action plans;
Quality Control of the deployments of new functionalities at the technologies platform level;
Event planning, promotions and other relevant activities;
Content creation (article, blog posts, press releases, etc.);
Responsible for the overall creation and execution of the social media communication strategy;
Establish relationships with key bloggers and online influencers;
Analyze and follow up on the engagement levels and other metrics;
Implement processes surrounding brand monitoring tools;
All related tasks.
Apply for the Community Management job offer today.
You may also send your resume to jobs@robotshop.com
[original entry]